On Friday, November 11, 2022, retired U.S. Marine Corps Colonel and head of Lehigh University's Veterans Association, Frank Gunter, hosted "Coffee & Conversations: Reflections of Three Generations," live from the ArtsQuest Center Frank Banko Ale House Cinemas.
The Colonel invited the audience to an intergenerational conversation and reflective discussion with veterans, Richard Schimmel, a Staff Sergeant with the U.S. Army; Richard Bealer, a Specialist 5 with the U.S. Army; and Steve Ondrusek, a Chief Warrant Officer 4 with the U.S. Army, who shared their personal experiences of the World War II, Vietnam, and Middle East Conflicts.
The SteelStacks' Veterans Day event is presented by Embassy Bank and Phoebe Ministries and made possible through a partnership between Lehigh University Veterans Association and ArtsQuest.
To watch a replay of the event, please visit the SteelStacks Facebook page.

Steve Ondrusek, U.S. Army, 58 years old – Phoebe Employee
Birthplace: Lebanon, PA
Branch of Service: U.S. Army
Rank: Chief Warrant Officer 4
Steve Ondrusek served for 28 years in the U.S. Army. He trained as an Army Ranger at Fort Benning in Georgia and served in this capacity in the Persian Gulf War during Operation Desert Shield, Operation Desert Storm, and Operation Desert Sabre. After that, he served at Fort Indiantown Gap in Pennsylvania, where he trained the National Guard and supported their deployment in the War in Afghanistan.
After his service, Steve worked for Bamburger's Inc as an HVAC specialist. In 2017, he joined the Phoebe Allentown staff as an HVAC Specialist. He was then promoted to Maintenance Manager of the Environmental Services department.
Steve, and his wife of 37 years, Ann, live in Lebanon, PA. They have three children.
Service dates and Assignments: Served 1981-2009 in Iraq, Afghanistan
Richard Schimmel, U.S. Army, 100 years old
Birthplace: Allentown, PA
Branch of Service: U.S. Army
Rank: Staff Sergeant
Richard "Dick" Schimmel joined the U.S. Army in 1940 and was assigned to the 580th Signal Aircraft Warning Company on the Hawaiian island of Oahu. He worked as a plotter and switchboard operator at an information center at Fort Shafter, just east of Pearl Harbor. The center took calls from Oahu's mobile radar stations. Schimmel was the fifth person to know that Japanese planes were coming to Pearl Harbor on Sunday, Dec. 7, 1941. Several months after the Pearl Harbor attack, Schimmel was assigned to set up an information center on Maui. After that, he spent six months on Canton Island, north of American Samoa, where he endured three bombings by the Japanese. He then returned to Hawaii.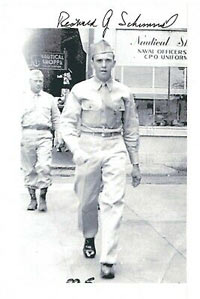 After his service, he worked at Sears in various capacities for more than 40 years. He and his wife, Yolanda, who passed away in 2010, were married for 63 years and had two sons, four grandchildren, and three great-grandchildren.
Schimmel is a resident of the Terrace on the Phoebe Allentown campus.
Service dates and Assignments: Served 1940-1945 Hawaii, South Pacific
Richard Bealer, U.S. Army, 73 years old
Birthplace: Bath, PA
Branch of Service: U.S. Army
Rank: Specialist 5
Richard "Mr. B" Bealer joined the U.S. Army in 1969 and trained at Fort Belvoir in Fairfax County, Virginia before being deployed to Vietnam as an U.S. Army Corps Engineer. His job was to repair and maintain construction equipment which were important to integrate new road surfaces and construct bridges.
After his service, he returned home and worked for Keystone Cement for 30 years. He served 35 years as a volunteer Scout Leader for the Boy Scouts of America. He and his wife have been married for 50 years and have 2 daughters, 1 son, and 5 grandchildren. He is now retired but continues to work part-time as a member of the Event Services Department for ArtsQuest.
Service dates and Assignment: Served 1969 – 1971. Vietnam & Germany